Plan your next holiday on the Giens Peninsula
Vacances Giens offers you a wide choice of accommodation in campsites and tourist residences on the Presqu'île de Giens, in Hyères, right in the heart of the Mediterranean. There's something to suit every taste, age and budget. At the southernmost tip of the Côte d'Azur, you have a date with the sun, the sea and nature.
The Presqu'île de Giens, located in the magnificent Var department, is a dream destination for your next holiday. With its breathtaking scenery, fine sandy beaches, exciting water sports and Provencal charm, the Presqu'île de Giens has everything you need for an unforgettable holiday.
Discover all our holiday offers from three campsites and a tourist residence. Don't hesitate to contact us if you need any further information; we'll be delighted to answer your questions and help you plan your holiday on the Côte d'Azur.
Read more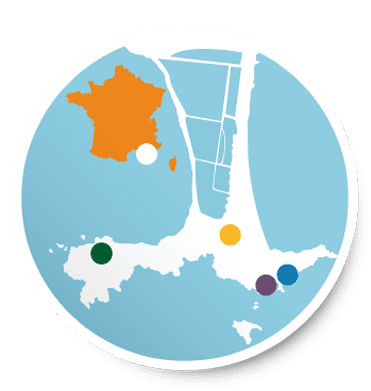 Our establishments in a few words…
La Presqu'île de Giens campsite **** : with water park, ideal for family holidays. Heated pools with slides, jacuzzi, paddling pool… Activities and shows in high season for a dynamic holiday. Mobile homes, chalets and canvas cabins for 2 to 6 people, tent, caravan or camper van pitches, beach 800 m away;
La Tour Fondue campsite ** : facing the island of Porquerolles, calm and open to the sea, close to the coastal path and the Espace Mer diving club. Mobile homes for 4 and 5 people, pitches for tents, caravans or camper vans, beach 200 m away;
Camping Olbia *** : in harmony with nature, authentic and peaceful. 100% camping, 100% nature in a listed pine forest facing the Parc des Chevaliers. Pitches for tents, caravans or camper vans, as well as a furnished holiday flat for 4 people, beach 200 m away;
Résidence de Tourisme La Gabinière *** : air-conditioned flats for 2 to 7 people on the seafront, facing the island of Porquerolles, for comfortable holidays, beach 200 m away.
Here are a few reasons why you should plan your next holiday in Giens :
Heavenly beaches : the Presqu'île de Giens is surrounded by beaches of exceptional natural beauty. From secluded coves to golden sandy beaches, there's something for everyone. The Badine, Almanarre and Bergerie beaches are among the most famous in the region.
Water sports : if you're into water sports, Giens is the place to be. You can windsurf, kitesurf, kayak, scuba dive and much more. The windy conditions and crystal-clear waters make it an ideal location for these activities.
Hiking : outdoor enthusiasts will be delighted by the peninsula's hiking trails. The coastal path offers panoramic views of the Mediterranean, and hikes in the Port-Cros nature reserve (National Park) allow you to discover unspoilt flora and fauna.
Provencal cuisine : sample the flavours of Provence by sampling local dishes in the restaurants of Giens and Hyères. Fresh seafood, regional wines and Provençal delicacies will delight your taste buds.
Culture and history :explore the region's picturesque villages, such as Hyères, with its historic centre and medieval castle, or Porquerolles, an island where time seems to stand still. Discover the region's rich history through its monuments and museums.
Relaxation and well-being : the Presqu'île de Giens offers plenty of opportunities to unwind. You can laze on the beach, treat yourself to a seaside massage or simply relax in the peaceful atmosphere of the region.
A sunny climate : with over 300 days of sunshine a year, Hyères is the perfect destination for holidays in all seasons. Whether you come in summer to enjoy the beaches or in the low season for gentle walks, the Mediterranean climate will win you over.
Our site is full of ideas and suggestions for leisure activities and must-see tourist spots in Hyères, on the Presqu'île de Giens, on the Îles d'Or and more widely in the Var department. Now all you have to do is plan your next holiday to the Presqu'île de Giens, a unique destination that will offer you a memorable experience, whether you're looking for nautical adventures, relaxation on the beach or cultural discoveries.
Come and experience magical moments on the Presqu'île de Giens and make memories with your family or friends.
Contemplation
"To the right, the end of this chain sloped towards the sea, all blue, a more intense blue than that of the sky, from which other heights rose up, those of the islands of Hyères: Titan with its lowered cliff, Port-Cros with its fortress, Porquerolles with the sharp rocks that end it. The bays of the Peloponnese do not display a more graceful and grandiose horizon than this. But isn't there something Greek too, of that race that vibrates so finely in contact with nature in every native of the Mediterranean coast? Albani was born and bred in these landscapes of the gulfs of Hyères and Giens, and at this moment he was clearly enjoying it as if he were seeing its beauty for the first time."
— Paul BOURGET, "Laurence ALBANI", 1919